Delaware Driver's License
Your Ticket to Passing the DMV Exam and Driving Test the 1st Time!
Prepare for your Delaware written driver's license test and road skills test online! We offer a MONEY BACK GUARANTEE. Complete our prep courses and you'll pass your road test and written exam the first time or we'll refund your money for the cost of the course!
Get your Delaware Driver's License
Not Registered?
Online Prep Tests
Behind the Wheel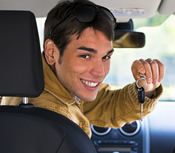 "What I liked about the course was I was able to visualize the driving test. I was still nervous, but I knew what the driving examiner was looking for and it really helped with my confidence. I don't think I would have passed my first time with out this course."